If you are a Practitioner or Propel member:
Please note: Not all Blanchard Community members are available for direct messages. If you do not see this option on their profile page (see below), please engage with this user in discussion forums instead.
Option A: Visit the Direct Message Icon. This icon appears on the upper right.
Option B: Visit their Profile Page. If they allow other users to contact them, Send message will appear next to their profile picture.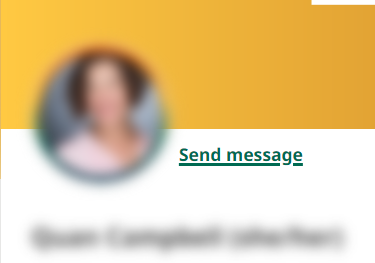 If you are a general member:
We unfortunately are not able to make this feature available to general members, but you are very welcome in the Community Forum discussions.
Please appreciate the steps we are taking to ensure many types of people can join the community, but this also means we have to be intentional about preventing sales solicitations or other concerns about members who don't have an existing relationship to Blanchard.